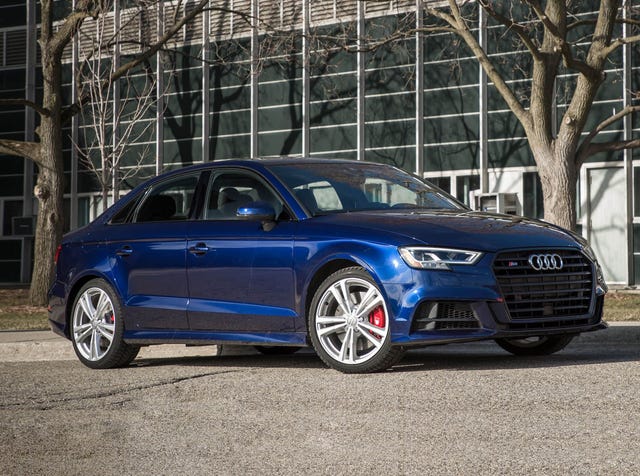 Michael Simari
|
Car and Driver
By Drew Dorian
Overview
The S3 blends Audi's high-performance and high-tech know-how into a zesty compact sedan. Despite its sporting intentions, the S3 also excels at being practical thanks to its roomy trunk and decent fuel-economy ratings. Unlike the A3 on which it's based, the S3 is not offered as a convertible.
Engines, Ride, and Handling
Under the hood is a 2.0-liter turbo four that makes 292 horsepower. A seven-speed automatic is standard; a manual is not offered. With accurate (albeit lightly weighted) steering, all-wheel drive, and a sport-tuned suspension, the S3 offers great driving dynamics. The automatic snaps off quick shifts and at our test track, the S3 zipped to 60 mph in just 4.6 seconds, 0.9 second quicker than the A3. If that's not quite quick enough for you, the even hotter RS3 model delivered a blisteringly quick 3.5-second run from zero to 60 mph.
Interior and Technology
The cabin is well-built and imparts a classy ambience, much like all modern Audis. Passengers enjoy comfortable and supportive seats—which can be outfitted with quilted diamond-patterned nappa leather—but the interior is tight, particularly the rear seat. All S3 models come with a panoramic sunroof, dual-zone automatic climate control, and ambient interior lighting. An optional 12.3-inch driver-oriented display provides everything from vehicle speed to navigation functions, and a second infotainment display rises from its hidden spot in the dashboard when you switch on the ignition. Blind-spot monitoring, automated emergency braking, and front and rear parking sensors are all standard; adaptive cruise control and a self-parking feature are optional.