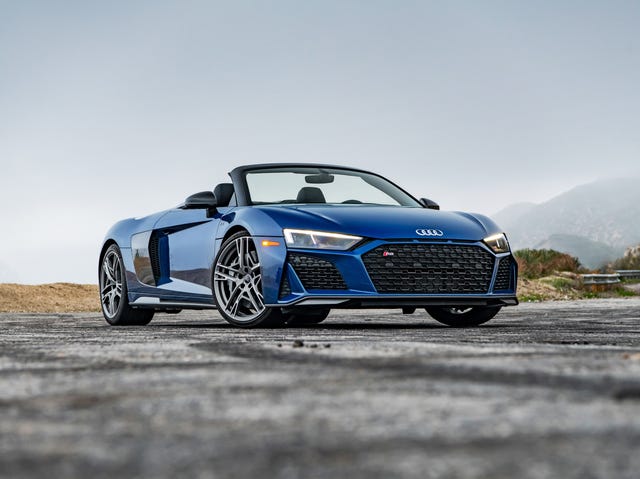 Jessica Lynn Walker
|
Car and Driver
Highs

Head-turning styling, minimalist cabin, V-10 engine sings.

Lows

Not at all fuel efficient, little room for cargo, handling could be sharper.

Verdict

Looks great, goes fast, and could easily be driven daily.
By Drew Dorian
Overview
Although it shares its powertrain and mechanicals with the Lamborghini Huracán, the 2020 Audi R8 is less sharp-edged and surprisingly easy to live with day to day. Behind the passenger compartment is a raucous V-10 engine that makes as much as 602 horsepower depending on which version you choose and literally howls when prodded. Acceleration is appropriately expeditious but the R8's ride and handling favors a more comfortable nature, making it less competent for track days but appreciated on road trips. The R8's interior is nearly as striking as its bodywork, with an all-digital gauge display, soft leather with optional quilted stitching, and real carbon-fiber trim.
What's New for 2020?
After not being sold for the 2019 model year, the R8 is back with sharper exterior styling and a revamped lineup, consisting of standard coupe and convertible (Spyder) models and Performance variants of each. All models are powered by a V-10 engine mounted behind the passenger compartment and come with both all-wheel drive and a seven-speed dual-clutch automatic transmission; in standard models the V-10 engine makes 562 horsepower, while Performance models make a hearty 602.
Pricing and Which One to Buy
With a car as flashy as the R8, we'd suggest going with the Spyder model. After all, with the top down, onlookers will be able to get a better look at the lucky dog behind the wheel. Choosing between the standard and Performance models is a tougher decision. On the one hand, even the 562-hp version of the V-10 engine provides incredible acceleration and the same bellowing wail as the 602-hp version. On the other hand, rolling up to the next Cars and Coffee event with the ultimate R8 might feel just that little bit more awesome.
Engine, Transmission, and Performance
The R8's V-10 engine is offered in two strengths, both potent enough to knock the wind out of unsuspecting passengers and both capable of searing your eardrums with their otherworldly exhalations. The R8's seven-speed dual-clutch automatic isn't exactly the smoothest gearbox and occasionally it downshifts too abruptly and perhaps too deeply, causing neck-snapping acceleration followed by an almost immediate upshift to a higher gear. The base R8 comes standard with an adaptive suspension, while Performance models are fitted with a more aggressive, fixed-damper setup. Both soak up bumps admirably and provide a comfortable ride that you could tolerate without fatigue on long trips. The R8's supple nature comes with a drawback, however: In full-attack mode, it simply doesn't handle corners as confidently as its rivals, and sometimes it feels more unsettled than you'd expect from a supercar. The standard steering setup is direct and relays information from the road to the driver's hands with only a mild filter.
Fuel Economy and Real-World MPG
An economical choice it is not. But does that really matter? For the record, all-wheel-drive R8 variants, regardless of roof type or horsepower rating, have the same EPA estimates for fuel economy—but they aren't impressive. In fact, the R8's fuel economy (13 mpg in the city and 20 on the highway if you really want to know) is so low that all buyers must pay a $1700 gas-guzzler tax as part of the sale price. So be it.
Interior, Comfort, and Cargo
Minimalism never felt so luxurious. Relocating the infotainment display that usually resides high in the center of the dashboard to the instrument cluster provides a refreshingly simple layout and lets the beautifully sculpted sport seats and high-resolution digital gauge cluster take center stage in the R8's cockpit. Audi allows for quite a bit of customization when it comes to interior colors and textures: black, gray, brown, and red leather are offered in either a flat or quilted pattern and with either matching or contrasting stitching. Overall, it's a beautifully executed cockpit with easy-to-reach controls including slick features such as the ignition button located on the steering wheel. No one buys a supercar for its practicality, and the R8 doesn't buck the segment trend by offering real cargo capacity. In our testing, the R8 provided space for just one of our carry-on suitcases, so pack light.
Infotainment and Connectivity
The excellent Virtual Cockpit gauge cluster does double duty, displaying both instrumentation and the MMI infotainment system, and it feels as futuristic here as it does in Audi's other cars such as the A4 and the TT. High-resolution navigation is standard, and the system can be controlled via voice commands, steering-wheel-mounted controls, or a clickwheel on the center console. An onboard 4G LTE Wi-Fi hotspot is also standard; Apple CarPlay and Android Auto capability are, too.
Safety and Driver-Assistance Features
Supercars are rarely examined by our nation's safety agencies since they sell in such low volumes; indeed, the R8 has not been tested here so its crashworthiness is unknown. Audi offers little in the way of driver-assistance features, but the R8 coupe comes equipped with a full complement of airbags. Key safety features include:
Standard automatic high-beam headlamps
Standard front and rear parking sensors
Warranty and Maintenance Coverage
Audi's warranty coverage for the R8 matches or exceeds all rivals except for the Acura NSX.
Limited warranty covers 4 years or 50,000 miles
Powertrain warranty covers 4 years or 50,000 miles
No complimentary scheduled maintenance