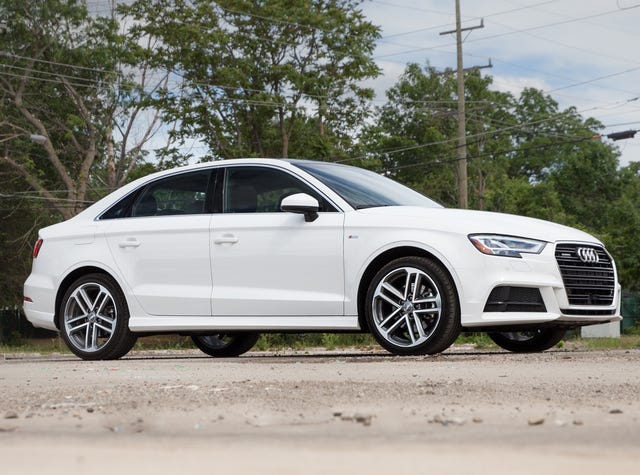 Patrick M. Hoey
|
Car and Driver
By Drew Dorian
Overview

Available as either a sedan or a convertible, the bite-size A3 wraps what we love about Audis in a handsome, tidy package. Despite sharing its platform with the Volkswagen Golf, the A3 is a genuine Audi with all of the features, performance, and sophistication we expect from a car wearing the storied four-ring logo on its grille.
Engines, Ride, and Handling
The A3's turbocharged 2.0-liter four-cylinder is offered in two potencies—186 or 220 horsepower—and is smooth and refined. The higher-powered version rocketed an all-wheel-drive A3 sedan from zero to 60 mph in just 5.5 seconds at our test track and still delivered 34 mpg on our 200-mile highway fuel-economy test loop. Steering is precise, the ride composed, and optional Quattro all-wheel drive provides all-weather assurance. Looking for more? Check out the A3's high-performance siblings: the S3 boasts 292 horsepower and the wild RS3 has a 400-hp inline-five under its hood.
Interior and Technology
Inside, the A3's cabin is as stylish and as well-assembled as its larger Audi siblings. Innovative technology is featured heavily, including a trick digital gauge cluster and a motorized pop-up infotainment screen. Apple CarPlay, Android Auto, and a 4G LTE–powered Wi-Fi hotspot also are available. Interior passenger space is tight, even by compact-car standards, and the convertible model's rear seat is even more snug than the sedan's. Audi offers plenty of driver-assistance features, although most are extra-cost options. Automated emergency braking and forward-collision warning are both standard, but conveniences such as adaptive cruise control, a self-parking feature, and automatic high-beam headlamps are optional.